CPA is hosting a Strategic Forum Plant Safety Group open meeting on Thursday 25th May. The open meeting is being held in the President's Suite from 10.30 until 13:00. The subjects covered are of key significance in the lifting and MEWPs sectors, including:
Inspection, maintenance and thorough examination of MEWPs – new guidance to be released at the event;
Lifting operations using excavators;
A new Safety Alert Protocol for sharing information on incidents in the MEWP sector;
New guidance on preventing unintended movement of plant;
A voluntary scheme for testing mobile cranes equivalent to an MOT test.
Attendance is free and open to all visitors to Vertikal Days. Speakers will be from CPA and IPAF. Further details about the meeting can be found at http://www.cpa.uk.net/sfpsg-open-meeting-vertikal-days/ from which you can register for the event. An agenda for the meeting can be downloaded from this webpage.
Exhibit at Vertikal Days
Visit Vertikal Days
Exhibitor List
Exhibitor Information Pack
You can see the following equipment at Vertikal Days 2017:

Cranes
Mobile Cranes Crawler Cranes Mini Cranes/Spider Cranes Tower & Trailer Cranes Loader Cranes

Access Platforms
Boom Lifts Scissor Lifts Spider Lifts Mast Booms Van & Truck Mounted Lifts Personnel Lifts Trailer Lifts Mobile Access Towers Mastclimbers & Hoists

Telescopic Handlers

Components
Safety Equipment Training Centres Parts & Service Suppliers Components & Accessories Affiliated Trade Associations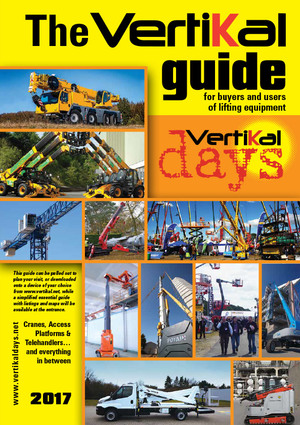 Please support our advertisers