Visitor Registration
Download the Vertikal Days Guide
Exhibitor Listing
CPA is hosting a Strategic Forum Plant Safety Group open meeting on Thursday 25th May. The open meeting is being held in the President's Suite from 10.30 until 13:00. The subjects covered are of key significance in the lifting and MEWPs sectors, including:
Inspection, maintenance and thorough examination of MEWPs – new guidance to be released at the event;
Lifting operations using excavators;
A new Safety Alert Protocol for sharing information on incidents in the MEWP sector;
New guidance on preventing unintended movement of plant;
A voluntary scheme for testing mobile cranes equivalent to an MOT test.
Attendance is free and open to all visitors to Vertikal Days. Speakers will be from CPA and IPAF. Further details about the meeting can be found at http://www.cpa.uk.net/sfpsg-open-meeting-vertikal-days/ from which you can register for the event. An agenda for the meeting can be downloaded from this webpage.
Vertikal Days is a two day networking event for the access and lifting industry, with association and company meetings, seminars and workshops - some open to all and some private. Make sure that your company gets the most out of the two days by encouraging pertinent colleagues and co-workers to attend with you.
Event Opening Times
Wednesday 24th May
10.00am to 5.30pm
Thursday 25th May
10.00am to 4.30pm
Time to Talk!
Because Vertikal Days focuses purely on lifting equipment, you have time to talk. It's a compact and seriously targeted event so you have time to visit all of the exhibitor stands without getting lost or walking a mile. You will have time to enjoy product demonstrations and have coffee or lunch with a colleague or competitor.
Register for your Visitor Badge
1 . Pre-register using the on-line registration form - qualified trade buyers and all those buying, specifying or using access equipment, telehandlers or cranes qualify for a complimentary entrance badge, as does anyone working for a company that does.
There are several ways to obtain a pass/entry badge.
Once you have registered you can print out your badge and collect your lanyard at the entrance.
2 . Request a free Vertikal Days entrance ticket from an exhibitor, all you need to do then is swap the completed ticket for a badge at the gate. However we would appreciate it if you would also register on-line in order to help us gauge catering requirements.
Those who have no association whatsoever with the industry, or involvement with lifting equipment, can still attend by purchasing a badge and lanyard on the gate. The fee includes free parking and all day hospitality including a hot lunch.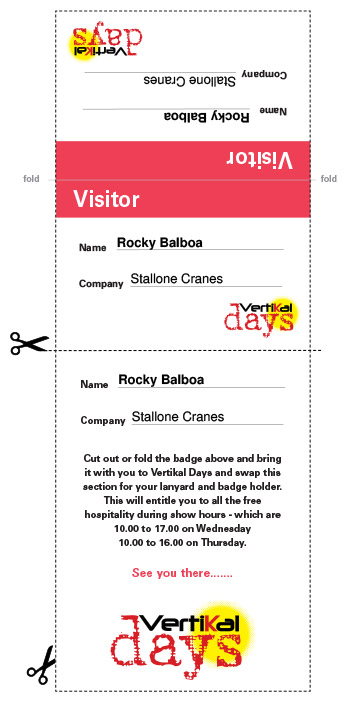 Visiting Suppliers
Staff from non-exhibiting suppliers to the industry, including component suppliers, equipment manufacturers and software suppliers etc will need to contact the organisers to purchase a suppliers pass at a cost of £250.

If you are such a supplier please do not attempt to register as a visitor without checking with the organisers first.
Vertikal Days 2016 Video

Tea, coffee and pastries - free of charge all day in the Marketplace

Visit the Dining Pavilion for a free lunch each day from 12.30 to 14.30
Please support our advertisers