Be Our Guest – Exhibitor Cocktails in the Pits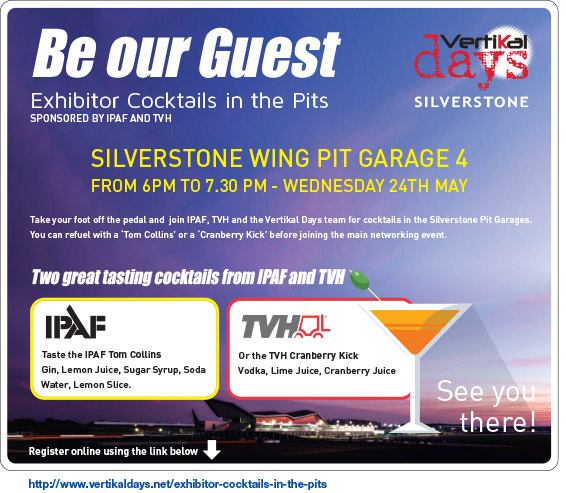 IPAF, TVH and the Vertikal Days team invite exhibitors to join them in Pit Garage 4 for cocktails prior to the main networking event
If you would like to join us please register online.
Networking Evening in the Silverstone Wing Hall 1 Wednesday 24th May from 7pm to 11pm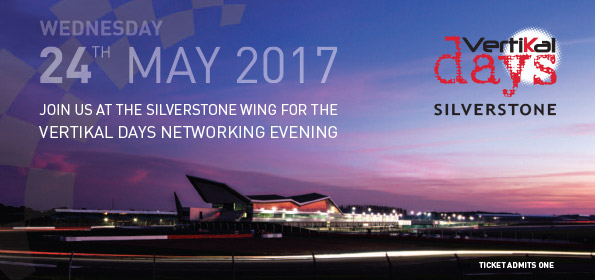 For 2017 we will be hosting the Networking Evening in the main Silverstone Wing building which will give us a greater capacity and the luxury of a permanent structure! The evening will include hot food, live music and drinks. As previously, each exhibitor will receive either two or four free tickets (see stand package information).
Showcase your products and services
If you are a producer or supplier of lifting and access equipment and would like to exhibit at Vertikal Days, simply register your interest by completing the Exhibitor Registration Form – we will acknowledge your interest by email and then call you to discuss. It's that simple.
If you need more information check out the Exhibitor Information Pack.
10 reasons why you should exhibit
Exhibitor Marketing Tools
Marketing and promotion for Vertikal Days will reach thousands of lifting equipment industry professionals in the UK, Ireland and mainland Europe.
Working with our media partners we will deliver editorial, PR and advertising coverage before and during the event
Targeted marketing to trade association memberships such as CPA and IPAF
Online marketing through the Vertikal.net website and other supporting alliances
Ongoing social media campaign
For full information refer to the Exhibitor Pack
Evening Transport
A mini coach service will run from designated hotels in the area as follows:
Premier Inn - Brackley
Coach will shuttle between this hotel and Silverstone Wing from 6.30pm - 8pm
Return shuttles from 10pm - 11.30pm
Whittlebury Hall
Mini coach will shuttle between this hotel and Silverstone Wing from 6.30pm - 7.30pm
Return shuttles from 10pm - 11.30pm
Buckingham - White Hart pub & Villiers Hotel
There will be two pick ups from these hotels - the first leaving at around 6.45pm and the
second around 7.30pm
Return mini coach will leave Silverstone Wing at 10pm and 11.15pm
Tickets are £42.50 plus VAT